Theme Parks Are Closed, But Here Are 17 Rides You Can Go On Right Now — Virtually
This article was reposted from LAist for the interest of our audience, click here to read the article on their website.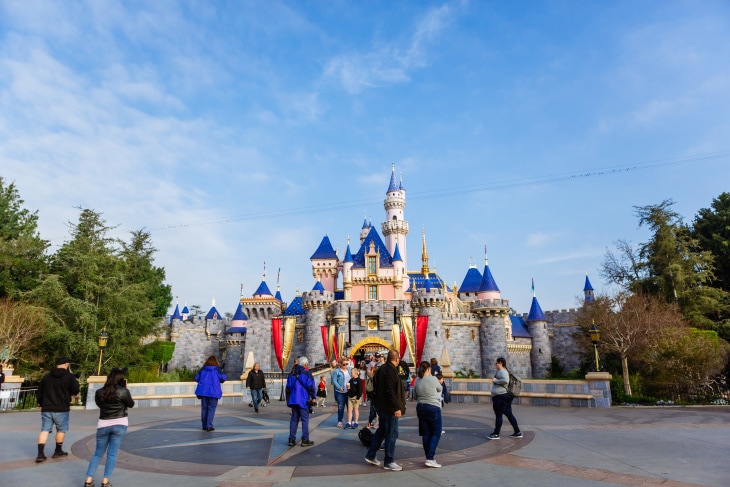 Sleeping Beauty Castle at Disneyland. (Chava Sanchez/LAist)
Our news is free on LAist. To make sure you get our coverage: Sign up for our daily coronavirus newsletter. To support our non-profit public service journalism: Donate Now.
We have so many theme parks in our back yard, but right now the gates are all closed, there's no nightly fireworks, and Mickey's giant head is probably in a dressing room storage area. We were even set to get a whole new superhero land at Disneyland this summer (Spidey!), a new Secret Life of Pets ride was set to open at Universal Studios Hollywood in March right after stay-at-home restrictions were announced, and we're coming up on the perfect time for summer water parks.
We can't get you into Disneyland (though I do have a friend who drove down to take a quarantine tour of their parking lots), but we can give you your own personalized virtual theme park experience with the best theme park ride videos.
Time to jump into our virtual seats. You will need to supply your own lap restraints.
Southern California
STAR WARS: RISE OF THE RESISTANCE
The opportunity to traipse around a star destroyer is so popular and epic that Disney had to design an entire new virtual queue system, and getting a spot has meant being inside the park at 8 a.m. and hitting a button on an app at the exact right moment. And even then, it might be a full day before you board.
Forget all that and live your Star Wars life with a holographic Rey, Kylo Ren coming after you with his crossguard lightsaber, and absolutely no line.
JURASSIC WORLD — THE RIDE
Welcome… to Jurassic World. It's one of Universal Studios' newest attractions, while also being an update of a classic. Jurassic Park kept reopening after dinosaur attacks, so while we wait for things to reopen after a virus, you can experience a different kind of life-threatening thrill.
DON'T MISS ANY L.A. CORONAVIRUS NEWS
Get our daily newsletters for the latest on COVID-19 and other top local headlines.
SUBSCRIBE
Terms of Use and Privacy Policy
SPLASH MOUNTAIN
With temperatures already hitting the 90s, we're longing for the experience of Splash Mountain. Get a spray bottle to spritz yourself, while hoping that an animatronic fox doesn't start talking about marrying your dad.
WATERWORLD SHOW
Waterworld didn't get global warming exactly right, but the live show is so good that it will make you want to see the widely derided movie. Whether you choose to create your own in-home Splash Zone and/or have a plane land in your living room is up to you.
RADIATOR SPRINGS RACERS
We're spending less time in our cars, so here's your chance to spend more time in Cars. Set up a fan to recreate the feeling of wind in your hair during the racing part.
But wait, why limit ourselves to Southern California? This is a virtual theme park, and we can put whatever we want in it. Let's go!
Around The World In 6 Rides
PIRATES OF THE CARIBBEAN: BATTLE FOR THE SUNKEN TREASURE
The Chinese market doesn't have the nostalgic love for the classic Disney ride, knowing the franchise largely from the hit Johnny Depp films. So when Disney had a chance to create a new Pirates ride for Shanghai Disneyland, they used the movies as a model of what moments to include, as well as using the latest theme park tech to kick our ride up to the next level — while still holding onto that dog with the jail cell keys. You can watch some English translations of the dialogue here.
FLIGHT OF PASSAGE
We're still not sure why they're developing four new Avatar movies, but we are sure that people love this Avatar ride from Florida's Animal Kingdom. Join the Na'vi for an epic flight and remember why this was once the biggest movie of all time.
HAGRID'S MAGICAL CREATURES MOTORBIKE ADVENTURE
Sure, there's a Harry Potter rollercoaster for all ages here in SoCal — but Florida's ride is for those ready to solemnly swear that they're up to no good, with animatronic animals, a portion that goes backwards, and speeds that will make your clothes and your face ripple.
THE AMAZING ADVENTURES OF SPIDER-MAN
The Marvel land set to open in SoCal is on hold for a sec thanks to the pandemic, but this Spider-Man attraction at Universal Studios Orlando came first. It's an impressive 3-D ride at Universal's Islands of Adventure, featuring a comic-book-come-to-life aesthetic reminiscent of the '90s Spider-Man cartoon.
TRON LIGHTCYCLE POWER RUN
Back to Shanghai for one that's on its way to Disney World, but not scheduled for those of us in California. Tron seems like the perfect world for a virtual ride. Get ready to go reeeeeeal fast, without as much of a threat of losing your lunch.
MYSTIC MANOR
Hopefully we can go back outside before October, but you can get your chills now via this international take on the Haunted Mansion, offering a distinctly Chinese take on spirits.
Back In Time
Not only is our virtual theme park not limited by space, it's also not limited by time. Go jump on some of the dearly departed rides that are no longer with us due to changing public tastes and the lack of room in Southern California for theme parks to expand.
E.T. ADVENTURE
Everyone's feeling separated at the moment, so go on an adventure with the adorable alien that popularized the idea of phoning home.
THE GREAT MOVIE RIDE
This show took you on a journey through Hollywood history, featuring films from different studios. But it's been lost as Disney has gone extra hard on the Disney in their rides, making way for a new Mickey & Minnie-themed attraction.
MIAMI VICE ACTION SPECTACULAR
Sure, the live Waterworld show's great, but where are the pastel suits?! Check out Universal's earlier live show, based on the ultimate '80s dudes with the kind of stubble also caused by coronavirus lockdowns.
MISSION TO MARS
There aren't a lot of great videos available of the original Mission To Mars, given video technology of the time and the dark setting — but one ambitious theme park fan has developed a CGI re-creation for you to experience. Virtual reality still has a ways to go, but here's the closest you're going to get to this theme park experience of yesteryear.
BACK TO THE FUTURE
Time to jump in the Delorean and come back home. Our own timeline went a different way, but here's your chance to get in one of those hovercars we never got.
A Fireworks Show!
Sorry, the park is closed, time to use your exhausted feet to carry you through a crowd, to a tram, through another crowd, up some escalators, across the parking lot until you collapse in your car. Then you have to drive back home.
But first, a fireworks show! See you real soon — or, uh, whenever there's a vaccine. But come visit this virtual theme park whenever you want.

Get Xamped our free monthly newsletter devoted to Living Life LIVE!